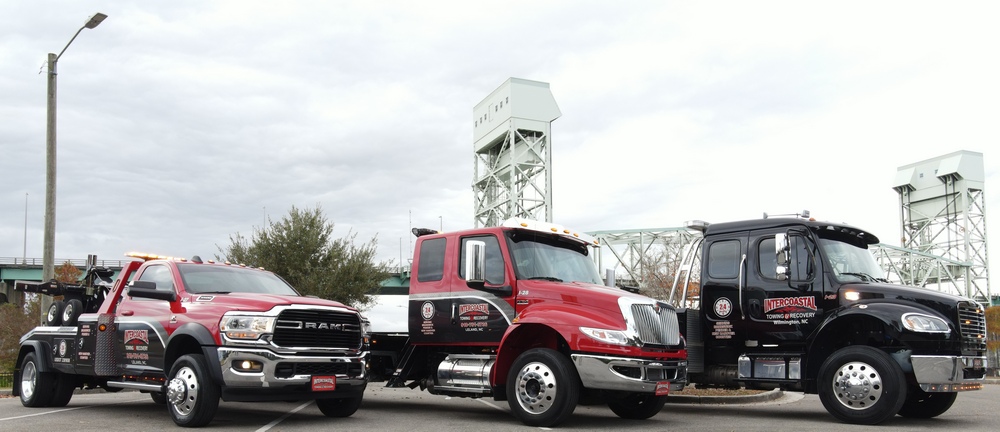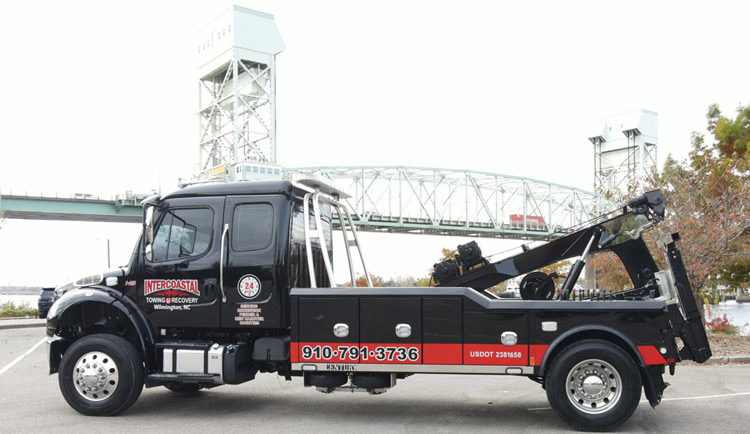 ---
Towing in Wilmington
Intercoastal Towing is proud to call Wilmington home and deliver the much needed towing services that every city needs.  We offer reliable Wilmington towing service and have the towing equipment capable for any kind of tow.  Just to name a few, roadside assistance, off-road vehicle recovery, flatbed towing, heavy equipment hauling, parking lot enforcement, emergency towing, accident recovery and more? We are available for heavy duty towing service as well.  Call Intercoastal Towing & Recovery at 910-791-3736. 
Lock us in your phone, so that you never have to search for tow truck near me again!
We have been a towing company for nearly two decades and we have the experience and expertise to tow your vehicle safely!  Allowing you to have confidence in our towing services, the staff at Intercoastal Towing & Recovery is punctual and professional when responding to your service call. We ensure safe, secure transport and towing for all types of cars and trucks, from small light duty vehicles to large heavy duty commercial trucks.  We offer inexpensive towing service rates and are happy to deliver your car or truck to the location you designate, whether it's your driveway or an auto repair shop. All cars needing to be stored at our facility are safe because our storage facility is fenced in, wired for Audio & Video, and we have our own security on site 24-7.
You'll never feel like you're stranded or helpless when you call our Towing in Wilmington services. We respond fast to all calls with professional, reliable help, no matter what kind of towing or auto transport service you need.
Best Towing Service
Be Picky!
Trust me when I say that not all towing companies are the same and that you should chose wisely when searching for Wilmington towing services.  There are lots of reasons that someone might be looking for a local tow truck.  Regardless of why, choosing a tow company with lots of experience and that is focused on transporting safely, is a big deal.  It is easy for a rookie driver to ruin your vehicle and it can happen in seconds.   
The chances are that you have been stuck on the side of the road before.   Whatever vehicle you were driving broke down and left you stranded with places to be.   It happens, probably more than you realize.  Our tow truck drivers have been there and have been  in that situation before.  That is why we want to get to your car and get it towed wherever you need it, as quickly as we safely can.  Our flatbed tow trucks and our wrecker style tow trucks are on standby and ready to come to your aid.  
Perhaps your car has left you sitting on the side of the road or maybe you were just involved in an accident.  That's why our fast response time is so valuable to you.  These are the situations that we give priority to, always.  Maybe you want to move a shed.  That is a towing job that needs top notch experience.  Its one of the hardest to do and damage to your shed is likely if the driver doesn't know what he/she is doing. 
Call (910) 791-3736 for an immediate tow!
Tow Trucks Available 24 Hours Everyday
24 Hour Towing
7 Days A Week
Emergency Towing
Experienced Tow Truck Drivers
Heavy Duty Towing
Highly Rated
Wilmington Heavy Duty Towing
Our heavy duty wrecker is on standby and ready for fast response to tow your heavy duty commercial truck!
Heavy Duty Towing Service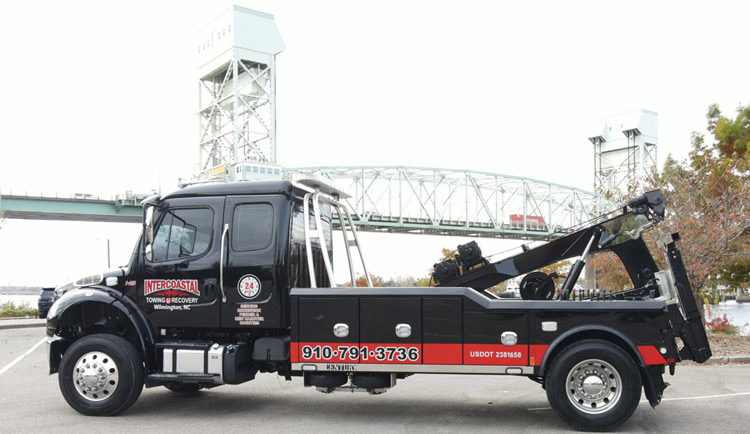 There are very few vehicles that we can't tow, like maybe a giant airplane.  Then again, we would probably find a way if asked. 
This beast of a truck can tow anything up to 32,000 pounds! It also has dual heavy winch lines that can pull heavy trucks out of sticky situations.  This is just one truck in a fleet of tow trucks that is available for Wilmington Towing Services.
With so many commercial trucks out there, having tow trucks like this one is essential to a town like Wilmington. When a big heavy commercial truck breaks down, it stops making money and delays the delivery of whatever it was hauling. Our heavy duty towing service comes to the rescue as quickly and safely as we can. We provide towing to all of Wilmington's surrounding areas as well. Towns like Leland, Rocky Point, and Hampstead.
You can trust Intercoastal Towing & Recovery to get your heavy duty vehicle towed safely, wherever you need it to go.
Wilmington Towing Services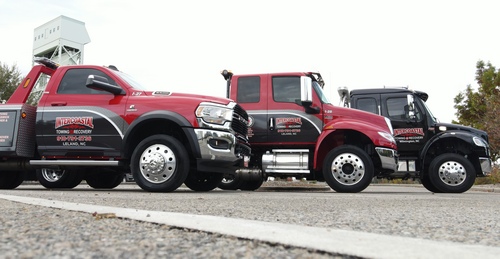 Wilmington North Carolina is a beautiful and historic town.  The beaches add to the attraction that brings tourists to the east coast of North Carolina.  It features a much desired University and three beaches, Wrightsville Beach, Carolina Beach and Topsail Beach.   Plus the historic downtown area that is great for shopping and walking along the river via the very nice and scenic River Walk.  To top off the tourist attractions, Wilmington recently implemented its own concert venue, Live Oaks Pavilion.   New Hanover is a great place to live and visit.   
We are proud to offer our Wilmington towing services to such a great town and community.   Intercoastal Towing has been providing fast response tow trucks to the area for over two decades.   Giving us the wonderful opportunity to watch the city grow and blossom.  We strive to provide exceptional towing services through the good and the bad.   Wilmington happens to be a hurricane hot spot and it is in extreme weathers that our winching service can be very useful.   Removing junk cars from yards in order to prepare for a hurricane or winching service to get cars out of flooded areas after the storm.   Intercoastal Towing company is here and on standby for residents and tourists alike.