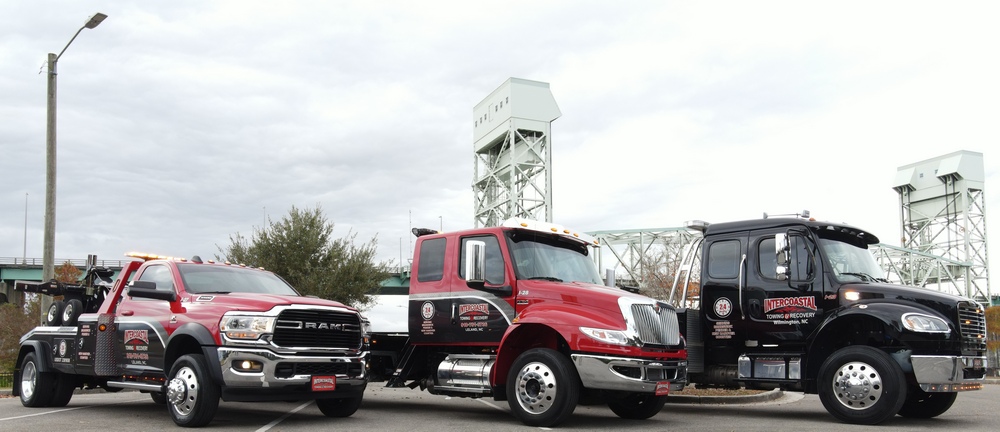 Wilmington Towing
Light Duty Towing
Medium Duty Towing
Heavy Duty Towing
Motorcycle Transporting
Motorhome Tows
Luxury Vehicle Transport
Tow Truck Services
Junk Car Removal
Shed Moving
Private Property Management
Heavy Equipment Hauling
Boat Towing
Multi Vehicle Transport
Emergency Towing
Accident Management
Battery Jump Start
Lockout Service
24 Hour Towing Service
Off Road Recovery
Winching Service
Winching Service
All of our tow trucks have winches installed and are an incredibly valuable tool for any Wilmington towing company.  Winch lines have so many uses, like pulling inoperable vehicles onto the bed of the truck.  They can be used to winch someone out of a ditch or perhaps their tires are buried in the mud.   They can be used at accident scenes to flip cars over or drag them out of the woods.    Cars that can't start, have tires that wont roll or don't have tires at all, have to be winched onto the flatbed tow truck.   Winching service can be useful for moving sheds and so much more.   We keep our winches serviced, winch cables straight and in good working order as a rule.   Two of our trucks are heavy duty winching service capable and one of our flatbeds has winch cables facing the rear and facing the sides.   Whatever Wilmington winching service you need, we are the tow company that you need.     Don't hesitate to call and get a quote.  
Heavy Duty Towing Service
Intercoastal Towing does a lot of heavy duty towing in and around Wilmington North Carolina.   We also tow a lot of motorhomes and box trucks across the state or even across the country.   The wildest and scariest job we ever had to do was winching and towing a motorhome off the side of a mountain.   It was incredibly dangerous and put several of our drivers in harms way for nearly two days straight.   We got it done and we got it done safely.  Kudos to our heavy duty tow truck drivers and their vast experience.   Intercoastal Towing has a large fleet of tow trucks and each is specifically designed for specialty towing services.    Whatever towing service you need, give us a call and we will get it done for you.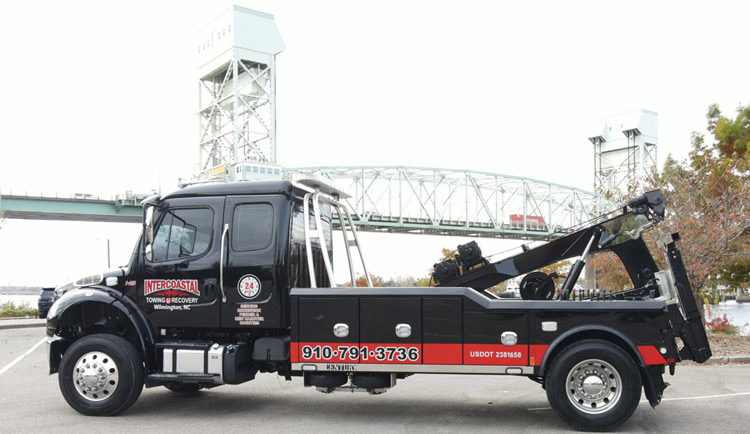 Luxury Vehicle Transporting
This is where choosing the right towing company in Wilmington becomes essential.  Not all towing companies are a good choice and even some of the best towing companies have new drivers that are still learning.   Intercoastal Towing employs the best tow truck drivers around and as a towing company, we strive for excellence.   Not just when towing luxury vehicles that cost hundreds of thousands of dollars.   Every vehicle we tow or transport is done so efficiently and safely.   One of the perks of being amongst the best in towing, is that we get see all kinds of special vehicles on the back of our trucks.   It's the kind of thing that makes our tow truck drivers day.    Don't take the chance towing that high end vehicle with just any towing company.   Call the Wilmington towing company with top notch towing services, Intercoastal Towing and Recovery.

Moving Sheds, Storage Units and Pools.
Again this is a towing service that requires vast experience, knowledge, know how and patience.   There are special tricks and tools that are required when moving sheds and moving pools with a flatbed tow truck.  A lot can go wrong, very badly and very quickly if the rollback driver doesn't know what he/she is doing.   When it comes to moving storage units or moving sheds with a rollback tow truck, we only allow our most experienced drivers to do the job.   Your shed or pool will be safe and transported safely by Intercoastal Towing.   We are among a select few Wilmington towing companies with the experience to move a shed.

Private Property Towing
Seems like a strange thing to find an abandoned vehicle on your property.  Oddly, it's a thing and happens more often than you may realize.    Not just the occasional abandoned car in a business parking lot but it happens at people's residences too.  Getting that abandoned car out of your yard isn't necessarily tricky business but there are rules.   The biggest rule is that you have to own the property.   Only the property owner can request a private property towing service.   The property owner has to sign a form and the rest is up to the Wilmington towing company.  Our towing dispatcher and our tow truck drivers can help and are happy to do so.  Businesses can have our towing company handle their parking lot  management.  We will put up the required signage and get their quickly to tow the abandoned vehicle.  
Junk Car Removal
Intercoastal Towing has the tools and tow trucks to get that junk car out of your yard.   We can even offer you cash for your junk car!  Getting a junk car out of a yard or woods isn't always an easy task but we have the expertise and tow trucks for the job.   You might even have a tree growing through the car and out the roof.  We will find a way.  How much cash we can give you for your junk car depends on the vehicle, but we are happy to make you an offer.   Take the leap and get that junk out of your yard.  Give Intercoastal Towing in Wilmington a call. 

Heavy Equipment Transport
Our rollbacks and flatbed semi-trailers are ready to haul your heavy equipment wherever you need it to go.  We have the trucks and equipment needed for heavy equipment hauling in Wilmington.   Our flatbed rollbacks are perfect for transporting most heavy equipment.  We have locations in Wilmington, Leland and Rocky Point North Carolina but are willing to to do long-haul transporting.   Just give us a call and we can set it up. 
Logistics Transport
 By the way, we aren't just a Wilmington towing company.  We are also a logistics and long haul company.   We have several rollbacks and flatbed tow trucks for hauling heavy equipment.   We ALSO have several semi-trucks with flatbed semi-trailers and a 9 car hauler.    Hauling, towing and transporting is simply what we do!  We can move, haul, tow or transport pretty much anything!  We just need to know what it is you need to transport and where you need it to go.  We take care of the rest. 
Load Transfers

Long Distance Hauling

Logistics Trucking

Multi-Vehicle Transport

Car Hauler & Multi Vehicle Transport
Intercoastal Towing is also ready to help transporting multiple vehicles at once.   Our Semi-truck and car hauler combo make us prepared for the job.  This truck stays on the road and we transport cars all over North Carolina.   We are not restricted to just NC though.   We can take a load of cars anywhere that you want them to go.  We have solutions for loads of just a few cars and solutions for nearly a dozen cars at once.   Call and arrange Wilmington car hauler service today.
Tow Truck Near Me
Are you searching for a tow truck in Wilmington NC?  How about in Leland, NC or Rocky Point NC?  Look no further, hopefully your search for tow truck near me brought you here, the best towing company in Wilmington!  Intercoastal Towing is local and with 4 locations in the area, our tow trucks are always close by.   A short phone call can have one of our tow trucks in route ASAP.   So you have called and our truck is on its way.  Check out this blog on what to do while waiting for a tow truck.