What to do while waiting for a towing truck to arrive!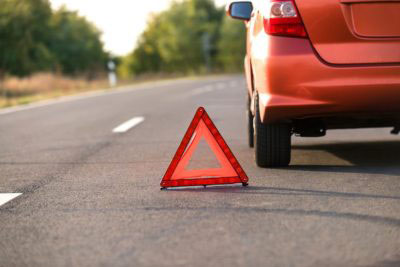 The first and most important thing to do is make sure your car is parked in a safe spot. If you have managed to make it to a parking lot, kudos to you. This means that you are not in danger of causing an accident and that it will be fairly easy for a tow truck to find you. Unfortunately we don't get to plan for our vehicle to break down or be involved in an accident. So, if you find yourself in the middle of the road, try to stay calm. This can be an unnerving situation but you need to try and get your car out of the road. Get it over to the shoulder or in a parking lot. Be careful, be aware of your surroundings, be sure to turn on your hazards (If they are working) and do it as safely as possible. It may be hard to accomplish this alone, but you will be surprised to find unexpected help once you start pushing by yourself. If your hazard flashers are not working look for something bright to attach to your car, like a red shirt or something.
Secondly, if you have been in an accident, contact the authorities. The sooner they are there with their flashing lights, the sooner you will be out of harms way. First responders will arrive quickly and will make the scene as safe as possible for you and others on the road. You may be tempted to forgo the authorities. This is ill advised. There are major legal consequences for leaving the scene of an accident. Plus, you will need a police report in order to file any insurance claims. Perhaps you and the other driver have decided to leave the authorities out of it or decided to settle right there on the spot. This again is ill advised. Without something in official writing, this could get messy if either of you decide to go back on your word. Keep it simple and protect yourself, call the authorities.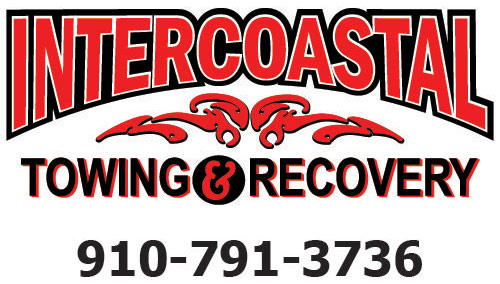 The third thing, If you haven't done so already, is to call a tow truck company. Being broke down on the side of the road is a high stress situation. The sooner someone is there to get you and your car moving, the sooner a lot of that stress is relieved. High quality towing companies like Intercoastal Towing will get there fast. Someone that is sitting on the side of the road and/or in an accident are high priority. We know what it is like to be in that situation and don't want you sitting there any more than we would a friend or family member.
Any time the authorities get involved, they will ask if you need them to provide a towing service. It is best that you choose your own for several reasons. The biggest reason is that allowing them to provide the tow truck, you have no idea who you will be dealing with "after the wreck." A high caliber towing company can make the process moving forward much easier for you. At Intercoastal Towing in Wilmington, NC and Leland, NC we can help by recommending trustworthy mechanics and auto body shops. Repair facilities that have your best interests in mind, not your insurance company. We deal with insurance companies every day and can help any questions that you may have, especially in regards to releasing the vehicle to them. We store your vehicle in secured lots that are locked and kept under surveillance, in hopes of keeping your vehicle and any potential belongings safe and secure.
The fourth thing you could do while you wait, is to collect your valuable belongings. Consider staying in your car until a first responder with bright flashing lights arrives. It is not safe to stand or walk around the side of a busy road. So while you are in your car waiting, start getting your things together. It could save you a trip to the repair shop or towing truck lot to collect them later. Although a professional towing company with have your vehicle in a locked gate and under surveillance, they are not responsible for the damage or loss of personal belongings left in the vehicle.
Finally, just a few extra tips to consider. Stay calm and be patient. If your truck or car has stopped running and left you on the side of the road, but someone else has been in an accident, the accident has priority. Usually a tow truck will arrive quickly but be prepared to wait for as long as an hour on rare occasions. Save the battery on your phone. It may be tempting to browse Facebook or articles on Google, but you don't want to drain your phone's battery unnecessarily. It's best to have it if you need it. Stay hydrated. Don't let yourself overheat just because your car did!
Intercoastal Towing & Recovery has been providing towing service for nearly two decades. We provide service in Wilmington, NC and its surrounding areas and have a location in both Wilmington and Leland, NC. We are also available in Fayetteville, NC and surrounding areas. Save us in your phone and give us a call when you need us: (910) 791-3736.
Leland, NC Geocode: @34.2143194,-78.0149491
Wilmington, NC Geocode: @34.2608454,-77.8488667